About chess variants
Chess variants are often invented by people who are themselves good chess players. Having a good knowledge of the standard game, they believe, always with good reasons, that their invention is an improvement of the king of games, and therefore they are promoting with a lot of energy and conviction what they believe that will be the next step of chess evolution.
This has been the case all along the history of chess for at least 1500 years, and with the sole exception of the reform that gave Queens and Bishops their modern moves around year 1475, this next step of evolution has never been successful.
It is indeed very unlikely to happen. In 1475, chess had no theory to support its analysis and was a mere game among others. Nowadays, the situation is quite different considering the huge development of chess worldwide.
In addition, chess players tend to be rather hostile to any change to their game. Mostly because they are acquainted to it and they master the play as part of their own knowledge and skills, also probably because they deny to anyone else the capability of being smarter than them to impose new rules. The latest point is the reason why some inventors of chess variants are seeking the support of recognized chess champions in order to be convincing, when it is not chess champions themselves who try to promote their invention (example of Capablanca, Seirawan).
A similar psychological feeling is also limiting the adoption of a given chess variant by other chess variant inventors who are reluctant to betray their own invention by adopting someone else's one.
Having these facts in mind, I believe that any chessvariant inventor shall be realist. What is important is to play. Inventing a chess variant is the game by itself on which they can take pleasure. If other people play with it, it is a bonus. And if they play at it, it is wonderful.
---
These pages present several Chess variants of my own
---
My Favorites
---
Chess Variants on very large boards
My other chessvariants, not preferred today but still nice to play:
More Chess Variants
All over the years, I have made a lot of attempts which led me to invent other chess-like games.
Obsolete ideas
Seminal proposals, today abandoned because they are surpassed by METAMACHY. Given here for memory.
---
Catalog of Chess pieces
Recapitulative table of all my fairy pieces and chess variants

See our catalog of photographs of Staunton-like pieces!
---
A Chessvariant set
Look at my home-made wooden set here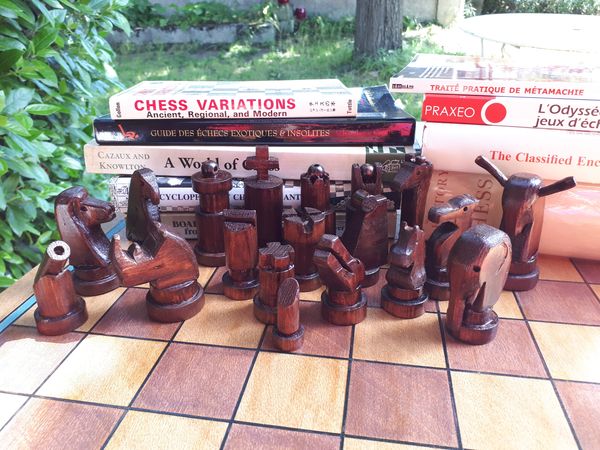 ---
Find those Chess variants on the Chess Variant Pages.
Retrouvez-les sur le site "The Chess Variant Pages"