Some artifacts found by archaelogists have been claimed to be Chess pieces. However it is difficult to accept when the found piece is isolated. Few different pieces, as the part of a set, contitutes the minimum to recognize a Chess set without any doubt.
Here are some famous finds. Several could have been Chess pieces, which would drastically change our view of the game history (such as the Dalverzin-Tepe pieces). Others are probably not Chess pieces at all (such as the Butrint one).

Terracotta pieces excavated in Lothal, an harappan site in India. A complete set of terra-cotta gamesmen has been found. Lothal was destroyed around 1900 BC which will consitute a very early date if the intended game were Chess.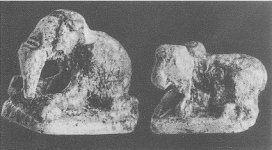 Elephant and Bull (or Knight or Vizier ?), ivory , dated as early as 2nd c. AD, found at Dalverzin-Tepe, Southern Uzbekistan. Their use is unknown, some scholars think they can be game pieces. Institute of Scientific Art, Tashkent

Kushan piece from the 1st – 2nd century AD discovered in Dalversin-Tepe. It is probably intended to represent a charioteer and the dress is similar to that of Kushan royalty. However it is dissimilar to votary pieces and the flattened base indicates its use for games (though perhaps not chess). (Many thanks to Gerhard Josten and Robert Bracey)
| | |
| --- | --- |
| Brownish terracotta elephant (H:4.6 cm) from Kanauj, India, about 4th c. | Terracotta Knight from Afghanistan or Northern India, early 6th c., Germany, private collection (Photo from M. Eder). |

Ivory warrior, Ctesiphon (Iraq). H: 3 cm
6-7th c. Pergamon-Museum, Berlin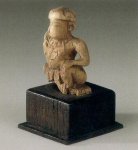 Assumed to be a fragment of a Chess piece, probably the head of a King, found at Afrasiab, ivory, 7 to 8th c.
Ermitage, St Petersburg, Russia

The controversial recent finding in Butrint excavation (Albania). Is that a Chess piece ? I don't think it can be. See dedicated page here.

A Rukh, fantastic bird of prey, found in Ferghana, 8 to 10th c.
Ermitage, St Petersburg, Russia. (Personally, I strongly doubt that this is a Chess piece : a phial cork or a walking stick handle? This is also the opinion prevailing at the chess expert group led by Manfred Eder.


Gaming piece (chess?, I think more probably nard), Western Islamic Lands, ivory, 9th-11th c. The Metropolitan Museum of Art


Gaming piece (chess?, nard?), glass millefiori, Nishapur (Iran), 9-10th c., Staatliche Museen zu Berlin, Museum für Islamische Kunst

Maybe a Chess Knight, probably dating to the late 12th or early 13th century, copper alloy, Nottinghamshire, UK.

Elephant in ivory which was once presented as belonging to the "Charlemagne set" although from a different origin : India,
9 or 10th century. With its large size, 160x88 mm, it is not even sure that it is a chessmen.

Queen or reliquaire, ivory, East of France (Reims?), 1075-1100. Musée National du Moyen Âge, Cluny, France


King on an ivory disc, 1150 to 1230, found in Staraya Ryazan, Ryazan Regional Local History Museum. Found with plain discs which are assumed to be pawn. If it is a Chess piece, it is a rare example of piece on a disc like un Chinese Xiangqi. It could also belong to a Viking game like Hnefatfl to my opinion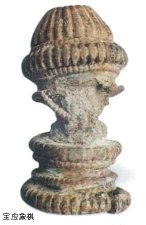 This artefact was given as "Baoying Xiangqi" piece on a blog authored by Peter Sung, a respected authority for Xiangqi from Toronto, Canada. Any further information (estimated date, size, place of find, etc.) will be appreciated