Isaac Linder reports (The Art of Chess Pieces, Moscow, 1994) that on autumn 1972, an expedition from Uzbekistan Academy of Sciences led by Galina Pugachenkova, found two small ivory figures photographed here below :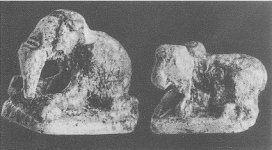 Elephant and Bull (or Horse or Vizier ?), ivory , dated as early as 1st to 2nd c. C.E., found at Dalverzin-Tepe, Southern Uzbekistan. Their use is unknown, some scholars think they can be game pieces. Institute of Scientific Art, Tashkent
They were found in Dalverzin-Tepe, an ancient citadel of the Kushan empire, now in modern Uzbekistan . The Elephant is about 2.4 cm high and the Bull is about 1.8 cm. The puzzling fact is that they are dated from the 1st or 2nd century of our era, then about four hundred years before the earliest date advanced for Chess apparition.
Are they really chess pieces? It is difficult to affirm it with only two pieces found. They could be also toys or amulets. It can be objected that one of these pieces is said to be a Bull and that there is no Bull in the chessmen line-up. But maybe what is thought to be a Bull is something else, like a Horse or another mounted warrior, only the wear making it vaguely looking as a bull or a zebu.
Is the dating correct? Apparently yes, these pieces were found with other artifacts, including a golden treasure (36kg of gold!) and "items made of polished stone, copper coins, beads made of precious stones, thin-walled ceramics related to to the Greco-Bactrian era."
The mystery remains and would be useful to have another dating expertise on this unique pieces.
Additional remark :
Similar images are found in North India even earlier, since third century BC, associated with Buddhist symbols. Another example is a silver coin from the Graeco-India kingdom of Bactria which also shows an Elephant and a humped Bull. These Greeks kingdoms were replaced in these lands by the Kushan Empire in the first century of our era.
Silver drachm of Apollodotus I (180-160 BC), an Indo-Greek king of Bactria.