The quest of Chess origin is an exciting riddle. Chess is now played all over the world. "International" Chess was finalized in Europe and it was the Arabs who brought the mediaeval game in Europe. Arabs borrowed that game from the Persians who named it Chatrang. Maybe - but this is disputed - the Persians took themselves the game from an Indian Chaturanga.
Beyond the familiar "international" European Chess, played with Staunton pieces over a checkered board, there are also different Chess in Asia especially in China, Japan and South-East Asia. All of them, Asian or European, present common characteristics which can not be coincidental: they do belong to the same family.
Two versions are of the greatest antiquity: Indo-persian Chatrang-chaturanga and Chinese Xiangqi. An exhaustive comparison of both is presented here.
WHY ARE THESE TWO GAMES SO SIMILAR ? WHAT IS THE EXPLANATION OF THEIR DIFFERENCES ?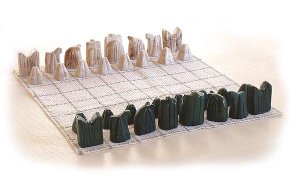 Which one was the ancestor?
Where birth did take place?
The following pages try to present the different arguments of each region which claims to be the cradle of Chess.
---
La recherche de l'origine des Échecs est une formidable énigme paradoxalement presque aussi ancienne que le jeu d'Echecs lui-même. Les premières allusions se rencontrent dans des textes épiques persans datant du 7e siècle qui les montrent comme une importation de la mystérieuse Inde voisine. Plus à l'Est, les Échecs chinois apparaissent de façon indiscutable environ deux siècles plus tard. Si les différences entre les deux jeux sont notables, c'est davantage l'importance de leurs similarités qui laisse songeur.
Pour lire une comparaison exhaustive.
POURQUOI CES JEUX SONT SI SIMILAIRES ? COMMENT EXPLIQUER LEURS DIFFERENCES ?
Voir le dossier (en anglais) à parti d'ici.